Concrete Repair Morgantown WV involves correcting the underlying problem that caused the damage to begin with. Whether that is structural bonding or stopping water flow.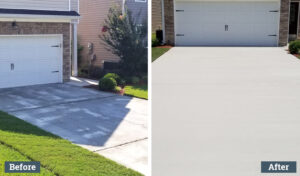 Professional contractors will be able to determine what caused the damage and how to properly repair it. This can save time and money on future repairs.
Concrete cracks are a natural occurrence, and while they can be unsightly, the majority of them are not structural problems. However, they can be a sign of more serious underlying issues and should be repaired to prevent further damage. In general, concrete cracks are caused by stress or tension being induced in the concrete when it is curing and drying. This causes the concrete to expand and contract in different directions, causing the surface to crack as it shifts. In some instances, the concrete can be so stressed that it becomes sheared and splits into two pieces.
Hairline cracks that only affect the surface of a slab or sidewalk are generally not considered to be a problem. They can be filled with a cement-based product, which will keep the crack from widening and may help to prevent moisture intrusion. Cracks that are wider than 1/4″ should be considered a more serious issue and inspected by a professional.
To repair these cracks, a concrete expert must first determine the cause of the cracking. This can be done by examining the crack for its size, direction and whether or not it is actively moving. If it is active, a method known as crack stitching can be used to stop its movement and re-establish the tensile strength of the concrete.
Prior to filling a cracked area, it is essential to clean the area. Loose gravel and debris can clog the crack and prevent it from filling properly. The area should also be chiseled to create a backward-angled V shape, which will allow the repair material to better bond with the concrete.
A concrete repair contractor can then use a product to patch the crack. The product is available in a number of formulations, including epoxy and latex, and can be applied with a mason's trowel or putty knife. When using a DRYLOK product, it is important to follow the manufacturer's recommendations regarding mixing and curing times, as these will vary from product to product.
Once the crack is filled, a masonry sealant can be used to finish off the repair. This will provide a barrier against moisture intrusion and help to keep the repaired concrete looking aesthetically pleasing.
Delaminations
Concrete is a robust and long-lasting material, but it's not immune to wear and tear. Delaminations, in particular, can have serious consequences and need to be addressed promptly. This type of failure involves the separation of the surface from the underlying concrete, leaving exposed aggregate and weak points in the slab structure. Delaminations are most common in polished and decorative concrete, although they can also occur in slabs with tile, vinyl, VCT and carpet flooring.
Delamination can be caused by a variety of factors, including excessive water content, air entrapment, chemical attack and carbonation. Over time, a build-up of carbon dioxide from the surrounding atmosphere can react with the calcium hydroxide in the concrete, lowering the pH and weakening the bond between the surface and the underlying concrete.
The easiest way to prevent delamination is to start finishing a slab before the concrete finishes bleeding. The bleed water and air move up through the slab, and troweling operations should begin only after this process is complete. If the concrete is finished before the bleed water and air can escape, they become trapped under the tight troweled surface paste. As the concrete dries and hardens, the voids created by this process weaken the concrete and can cause layers to separate from the surface.
Typically, the delamination is limited to an area 1"-3" in diameter. However, it can spread over a larger area and lead to a significant reduction in slab performance. It can be difficult to detect until traffic or other forces break down the concrete.
Leaks
Water leaks in concrete are a major cause of damage to a building's foundation and can result in significant costs. They are often caused by corrosion of copper water lines or by cracks in the concrete that are caused by the expansion and contraction of the soil around them. It is important to fix concrete leaks as soon as possible to avoid further damage.
If you think you have a slab leak, you will need to hire a plumber who can use thermal imaging and other tools to pinpoint the location of the leak. This will minimize the damage to your home and help prevent the need for ripping up your floor. Once you have found the location of the leak, you can prepare to repair it by removing furniture, rugs, electronics, and anything else in the room that might be affected by the work. It is also a good idea to wear protective equipment including goggles, a respirator mask, heavy-duty clothes, and steel-toe boots.
The first step in repairing a concrete leak is to prepare the area. This includes cleaning the broken section of concrete and sealing any exposed edges. You can then prime the area with a neat blended epoxy to ensure a proper bond and prevent future leaks.
Once the area has been primed and is dry, it's time to start working on the actual repairs. There are several ways to address a concrete leak, but one of the most common is spot repair. This involves hacking through the concrete to repair a small section of leaking pipe or sewer line. This is a good solution for larger commercial buildings, but it may be disruptive and costly in residential settings.
Another way to repair a concrete leak is to re-route the plumbing above ground. This can be expensive and disruptive, but it is the best solution for preventing further problems from developing.
A final option is to dig up the slab and locate and repair the leak. This is the most intrusive and costly option, but it's necessary if you want to protect your home from further damage.
Damage
Concrete is a durable material that can be used in construction for various applications, including floors, walkways, and even driveways. However, if it is damaged, its structural integrity may be compromised and it will no longer serve its intended purpose. Damage to concrete can be caused by natural factors such as weather and structural overload, or chemical degradation due to exposure to certain chemicals. Regardless of the cause, damage to concrete is a serious issue that requires immediate attention. Fortunately, there are a number of concrete repair methods that can be used to restore the structural integrity of your concrete structure.
The first step in any concrete repair is to identify the underlying issues that led to the damage. This can be accomplished by a thorough evaluation of the concrete structure, which should include a review of design and construction documents, a structural analysis of the existing condition, a visual inspection, destructive and nondestructive testing, and laboratory results from chemical and petrographic analyses of the concrete. Once the underlying causes of the damage are determined, the appropriate repair method and materials can be selected.
Spalling is a common form of damage to concrete surfaces. It occurs when the surface of the concrete breaks off or crumbles, leaving a rough or pitted texture. Spalling can be repaired by cutting away the affected area and then filling or patching it with concrete mortar. Joint repair is another common concrete repair service that involves filling, sealing, or re-colking joints. Concrete can also be levelled using a process called slab jacking, where the concrete is injected with a grout mixture to raise it to its desired height.
While concrete is a very resilient material, it can be destroyed by extreme temperatures. When concrete freezes and thaws, it expands and contracts, which can lead to cracking and spalling. In order to avoid this type of damage, it is important to install a proper drainage system that will relieve water pressures in the concrete structure. It is also helpful to install low permeability concrete, which can help reduce damage from freeze-thaw cycles.