The integration of hardscape and softscape elements is a must for any complete landscape design. Without hardscape the landscape may suffer from poor drainage, erosion or water infiltration into structures like retaining walls and patios.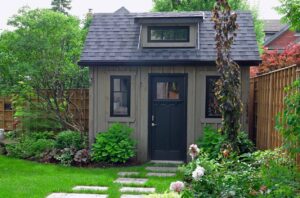 Hardscape Services do more than just improve the look of commercial properties, they also make them more accessible to everyone who visits the site. This is especially important for customers with disabilities who need to walk over smooth, even walkways.
A driveway is a path that allows access to a house or other buildings from the road. It can be made from a variety of materials such as concrete, cobblestone, pavers, block paving or asphalt. In some areas, local ordinances set requirements for a driveway's size and other characteristics. Driveways can also be permeable. A permeable driveway utilizes gravel-stabilization grids that prevent heaving or cracking. These grids are installed over a base of crushed rock and are suitable for most climates.
Driveways can add curb appeal to a home and increase its value. They can also provide an alternative means of access to a home for people with mobility issues. Hardscape projects, such as a driveway expansion, are a good choice if you want to improve the appearance of your property while also making it easier for family members with limited mobility to move around and enjoy your yard.
When it comes to landscaping, most people think of plants and flowers. However, there is a growing push to include more hardscape elements in backyards and outdoor living spaces. Hardscaping is the term for any manmade structure within a landscape design that uses inanimate materials such as brick, stone or concrete instead of organic material like trees and shrubs.
A skilled hardscape company can create a functional and beautiful outdoor space. They may use a variety of materials, including gravel, concrete and wood. They can also create features such as walkways, patios and fire pits. The advantages of hardscapes are that they require less maintenance and they can be constructed at a lower cost than plant-based landscaping. However, it's important to consider the long-term costs when choosing a hardscape material.
Patios
A patio is the perfect place to relax, eat meals, or spend time with family and friends. It also helps connect your home to the yard and makes it feel like a natural extension of living spaces. A patio can be made from a variety of materials and styles. Adding a patio to your property can increase its resale value and improve the functionality of your yard.
Hardscapes can include backyard stone fountains, garden walkways, and even retaining walls. They are often built with curves and rounded edges that make them look natural and organic. They can also be built from a variety of materials, such as cut stone or interlocking pavers, brick, and concrete. These materials are typically chosen because of their durability, affordability, and beauty.
One of the most popular features that our customers request is a custom-designed and built patio. We work with our clients to create the perfect outdoor space that is unique and fits their style. Our team of professionals is experienced in the design and building of patios from a variety of materials, including concrete, flagstone, and paving stones. We are also experts in the installation of water features such as fountains, waterfalls, and ponds.
Having your patio designed and constructed correctly can help prevent problems down the road. If your patio is made from pavers, it's important to wash it regularly with a pressurized hose to rinse away dirt and debris. This can help keep the pavers looking clean and fresh and prevent weeds from growing in between them. We also recommend using a quality paver sealant to add a protective layer that will extend the life of your patio.
Sidewalks
A sidewalk (American English), pavement (British English), footpath or footway (Australia, Ireland, New Zealand and India) is a path that runs alongside a road, usually constructed of concrete, stone, brick, pavers or asphalt. Sidewalks are normally higher than the road, separated from it by a curb or unpaved buffer space, and they may have separate areas for pedestrians, bicycles or vehicles.
The purpose of a sidewalk is to provide a dedicated path for pedestrians that is safe and accessible to all. This allows people to walk without having to worry about stepping on horse manure or being hit by cars. It also helps reduce the number of deaths that occur when people walk along roadways, especially at night.
Sidewalks can also serve a social function by providing a space where people can gather for events like community markets, cafes and more. This provides a safer environment for children to play or visit their friends and makes walking a more enjoyable experience.
Whether you're looking to add curb appeal or just need a way to get from one outdoor space to another, Hardscape Services can install a walkway or patio that will suit your needs. We offer a wide variety of materials to choose from and will work with you to create an attractive, functional design that matches your home's style.
Pergolas
Pergolas add grandeur to a garden space and are the perfect spot for outdoor dining. They also act as a natural trellis for climbing plants such as honeysuckle, passion flowers, potato vines, clematis and wisteria. They can be used to divide up your garden into separate themed spaces, as a structure over a swimming pool or to simply provide shade and privacy in your backyard.
With so much time spent indoors due to remote work, school and activities, it's no wonder that families need a space that allows them to enjoy their outdoor environment year-round without being exposed to harsh sunlight, rain or snow. Adding a pergola to your home landscaping is one way of doing this while also increasing the overall value of your property.
A pergola is an open or partially covered garden structure with a roof of beams and rafters. They may be freestanding or attached to a house, and they often feature curved arches at the top. They are a popular alternative to more expensive, permanent structures like a gazebo or garden shed and can be built from a variety of materials including wood, vinyl and aluminum.
While some styles of pergolas require minimal maintenance, most are made of wood and will need to be cleaned, sealed or stained periodically depending on the color and weather conditions of your yard. A professional installation service will make the process of installing a pergola simple and cost-effective, so you can enjoy your new outdoor addition for years to come.
Water Features
A water feature like a soothing garden pond or stunning waterfall can add drama, tranquility and beauty to any property. But they also offer a host of other benefits, such as:
An outdoor water feature anchors one's experience to nature, making it a place for contemplation and reflection. Its soothing sounds can reduce stress and anxiety, making it the perfect spot for relaxing after a long day.
Adding a water element to your landscape also provides movement and definition to any area, especially when used for a focal point like a waterfall or pond. Whether you're interested in a water feature that produces sound or is simply a visual focal point, the professionals can help create a design that suits your needs.
Any natural or man-made body of water can be considered a water feature, including rivers, streams, lakes, ponds and even artificial reservoirs. They can be lotic (flowing, like a stream) or lentic (stagnant, like a pond).
Regardless of their size, all water features can support life by providing drinking and bathing opportunities for wildlife. Birds, frogs, squirrels and other animals will be drawn to your home's yard to enjoy the refreshing water.
All water features require some maintenance, which varies depending on the specific feature. For example, a pond that supports aquatic plants will need more regular cleaning than a fountain. Additionally, it's important to consider the effects of sunlight on your water feature and choose a location that will be visible from key viewpoints, without interfering with utilities or the roots of nearby trees that could cause erosion. It's also important to be familiar with any local regulations that might affect your installation or use of the water feature on your property.